"Things I love to look at, things that make me smile."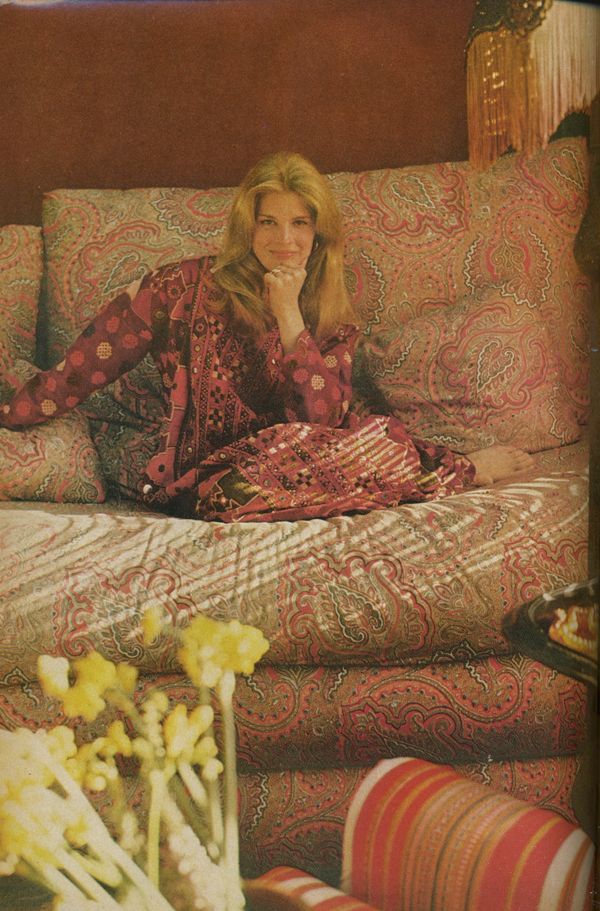 The living-room, "like a tapestried train.. a den for an elderly Arab."
I submitted to the desire for property because I happened upon a house that was unlike any other, and I thought living there would be something special. The house was built by John Barrymore and called his studio. It served as projection room and aviary for a man who believed that if he stopped building he would die. It was the third addition to a compound that included the maze-like main house - with Meissen chandeliers, old monastery doors, and rathskeller floored with redwood trunks - and the hacienda, or guest house - with heated dog kennels, a fourteen-foot Renaissance sundial, planted squarely in the pool, and hand-carved doors from Bombay brothels. This man was not without style.

What I loved about my house was that it was like a castle conceived out of fantasy. A man who builds a stained-glass, domed projection room downstairs and frescoed, skylit aviary upstairs cannot be called earthbound. What he achieved was a sublime time capsule where one could seek solace from a growing metropolis.

The theatrical proportions of the house are often overwhelming. The miniscule living-room is crowned with a three-storey-high cupola studded with stained-glass windows. A great rock fireplace splays grandly across one wall and a crusty iron chandelier hangs perilously from a stained-glass clipper ship at the top of the dome. Empty, the room has all the warmth of a monk's crypt. Some of my friends refer to it as the lobby. When it is filled to its capacity of eight people, facing each other nose to nose in its tiny rectangular shape is like sitting in a tapestried train. All of which is its charm - I guess.

I wanted to accentuate the fantasy I loved in the house and Jay Steffy seemed the only decorator whose mind could drift in distant places. The downstairs suggested something mediaeval. Late Beowulf, I saw it; with fraying fabrics on fecund sofas and Moorish chests with dark patinas. And that is, more or less, what we got. Tapestry and needlepoint materials and great old Persian and Moroccan rugs that were a trifle threadbare.

Jay painted the downstairs a terracotta that emerges as soft and seductive by night and a claustrophobic orange by day; and he emphasized the architecture of the cupola by painting the pilasters a deeper shade and striping muted bands of colour around its base. The crowing glory is a copy of the portrait of Victor Mature as Samson by Norman Rockwell that left the art world reeling. It is, at once, the worst and best. If there were a fire, I'd surely save Victor.

Jay thought of a long slab of table to exaggerate the narrow dining-room, and I wanted each chair at the table to be different, huge and comfortable. Jay slipped a cane and chrome Marcel Breuer in with all the carved medieval monsters just to keep people on their toes. As if they weren't already.

The kitchen assumed shape gradually, a repository for memorabilia I was too embarrassed to have anywhere else. During a brief fling with decoupage, I spent an afternoon decorating cupboards leaving half the job unfinished. Then I threw down a slightly impaired Persian rug to unify the chaos.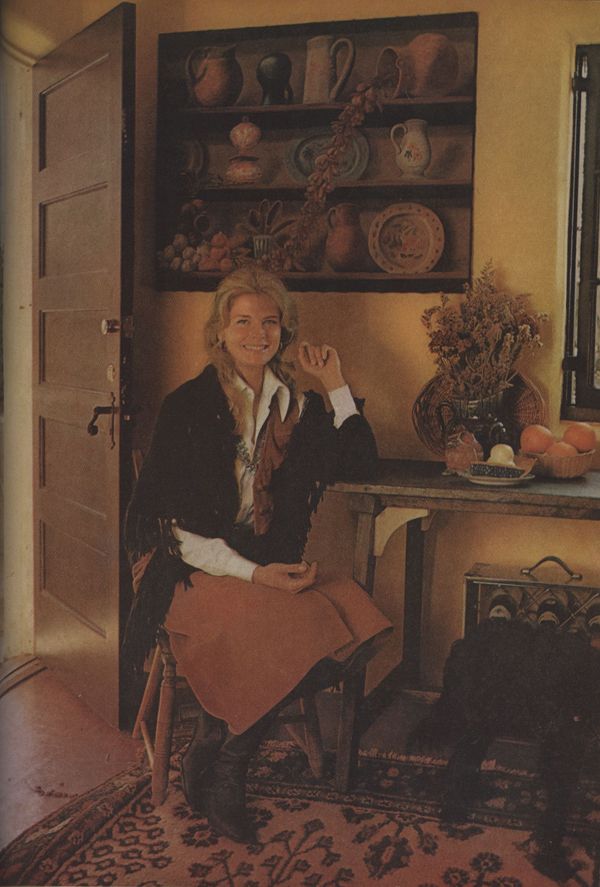 In the Vermeer-yellow kitchen: Americana and toys, " a place for sitting around in", with a rug to warm the floor, a Mexican painting.

Bathed in light, the upstairs is the antidote to the downstairs, like walking from winter up into spring. As the aviary, it was designed with large, high rooms and skylights to soften the blow to a bird in captivity.

I wanted the smaller of the two rooms for a den, with Paisley and a huge, high couch crushed with pillows. Jay got Michael Kelly, paint wizard, to work geometric wonders on the walls, and the great felt-topped gaming table is a sensational desk. The den, with the most outrageous of my lamp collection, ended up resembling the home of an elderly Arab. It seemed natural to extend the fantasy to the furnishings - games and toys; a wheel of fortune; a telescope; a plastic porpoise in the bathroom; a hand-decorated desk chair and hand-painted lampshades of pastel pastorals I'd like to curl up and live in - things I love to look at and things that make me smile.

The vast reaches of the bedroom constitute a spatial experience that was, at first, like waking up in an airplane hanger. For reasons I am at pains to explain and subsequently outgrown, I wanted a rainbow for a headboard. Jay, a Frank Stella devotee, designed it and the graphics are superb. However, the word "nursery" does spring to mind upon entering the room. I call it my "arrested-growth room", since on its completion I realised I was living in never-never land. It was, indeed, the perfect child's room, I saw somewhat to my horror, and incriminating evidence of my infantilism. Still, the bedroom, or Rainbow Room, banked with windows, crowned with skylights and crammed with sunshine, is the happiest room of all.

When I got my house, I thought, mystically somehow it would change my life because it was, after all, a mystical house. Well, it didn't act as the creative catalyst I thought it would. Obviously. But it did effect some change: my life is tracked with the footprints of plumbers, roofers, painters, electricians and exterminators. I have broadened my horizon of friends. Now the house is no more or less important than it should be. But I love it, it lets me outwit the city, and whatever its magic it works for me.



The bedroom, once John Barrymore's aviary, now "Rainbow Room, the happiest room of all..."



Photographs by Henry Clarke for Vogue UK, November 1971.


Though I can understand her thoughts on the rather childlike bedroom, I personally would adore having a rainbow painted on my wall- just looking at it would bring so much joy everyday that it would more than make up for the lack of sophistication.