Dream Clothes from a Not Too Distant Past.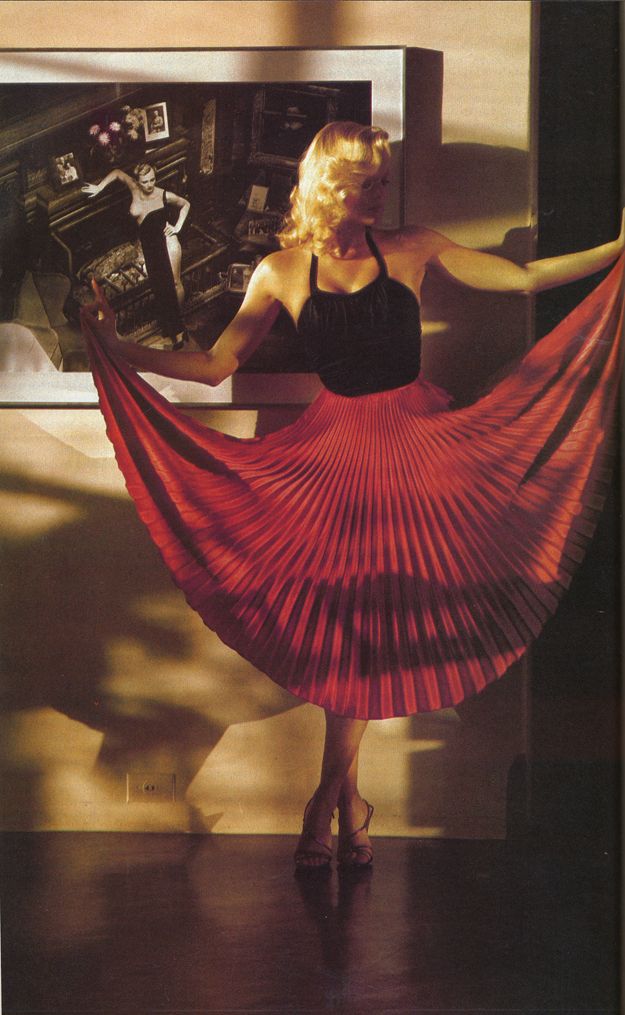 Cherry red sunburst pleated satin skirt and black crepe halter top by Jamie McDonald, N.Y.C.
The curious sensations of dreams: mind images of the unconscious, fantasy films screened on sleep vision, strange waves of light and sound toying with the brain. But I was there: standing, statuesque, wearing the dress my mother wore in her last movie, before the car accident that killed her. Holding the edges of the dress, as though to curtsy, posing for someone (who?), i stood perfectly still for an indeterminate, infinite time in that luminous, shadowy room, the parlor of my parent;s first home in the hills outside L.A.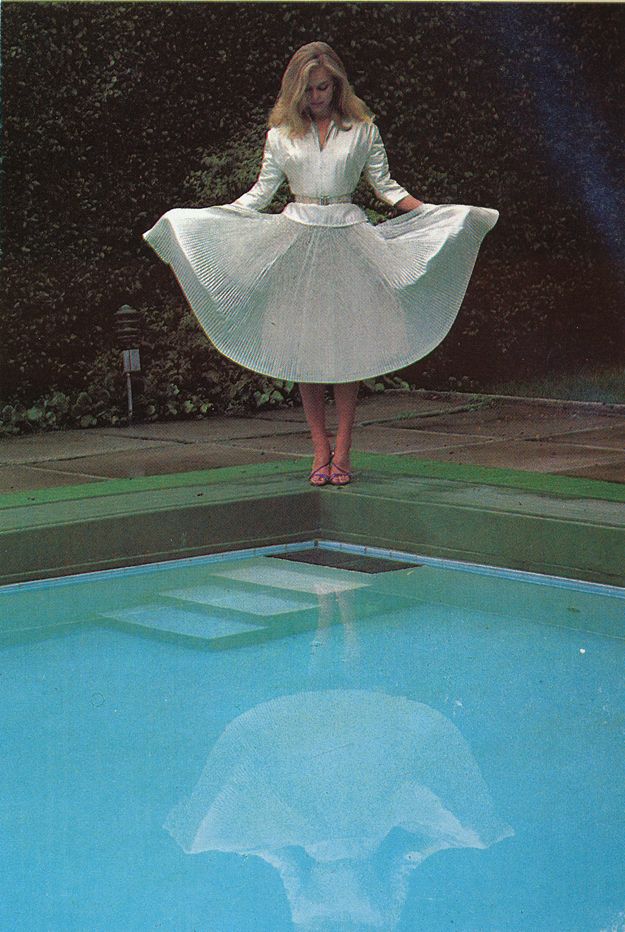 Silver lurex fifties fitted jacket and matching sunburst pleated skirt, The Crystal Palace, L.A.
Then, suddenly, I was outdoors, grounded at the edge of our swimming pool, staring at the limpid turquoise water, wearing a different dress, the one mother wore in Midnight Passion, the film she made with father in '51, just before he left for Mykonos with Luna's mother.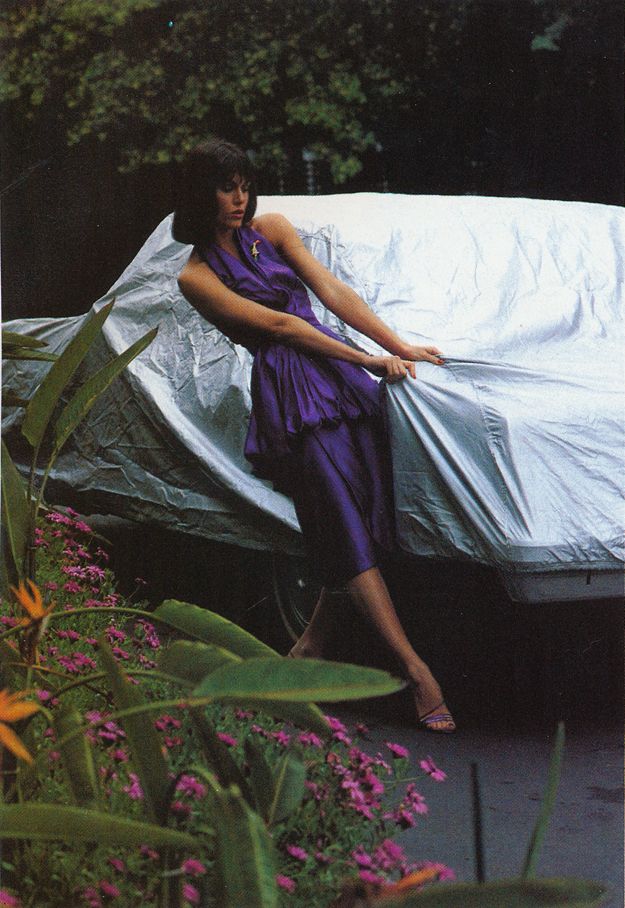 Purple silk fifties designer gown ($100), one of a kind from Early Halloween, N.Y.C..
Suddenly, Luna appeared from nowhere. She seemed to want to tell me something, something important, vital, I think, about that car. She couldn't speak. She moved in slowly calculated, almost choreographed gestures, her gaze unerringly fixed on something far away. Someone was watching us. I knew it - it was that sense one has of being seen through a viewfinder. I heard the vague buzzing sound of a movie camera in the distance.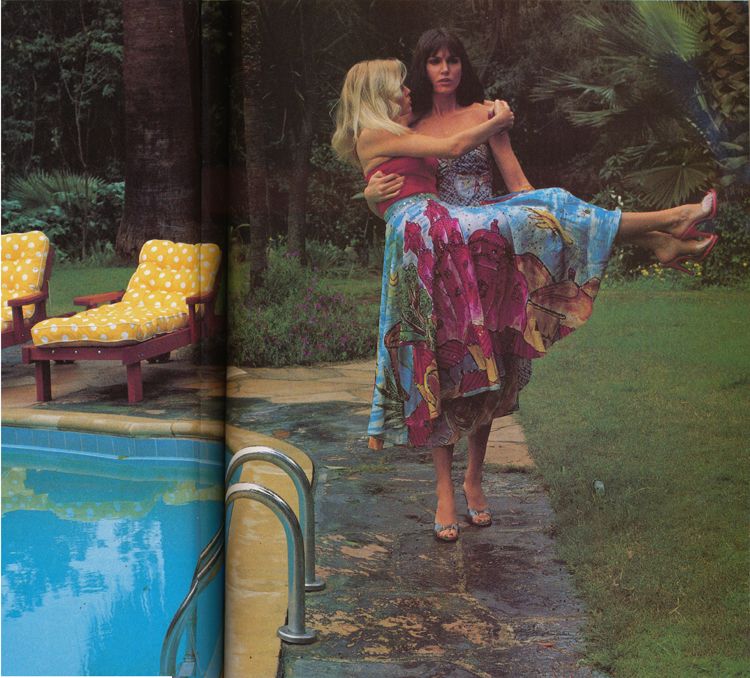 Silk sequinned hand-painted fifties circular skirt ($75) worn over red fifties stretch-crepe bathing suit ($35) from The Ruby Slippers, N.Y.C. Smoky blue print-silk fifties Hawaiian sarong dress with matching bolero ($65) from The Ruby Slippers, N.Y.C.
Luna picked me up and carried me into the trees surrounding the pool. I searched her face for some identifiable expression. There was nothing in her eyes. Gradually, my will, too, was being consumed by that bizarre invisible force (an observer? a camera?) recording my every heartbeat. I felt fear tingling in my spine as I passively, yieldingly, allowed myself to be taken with a murmur of resistance.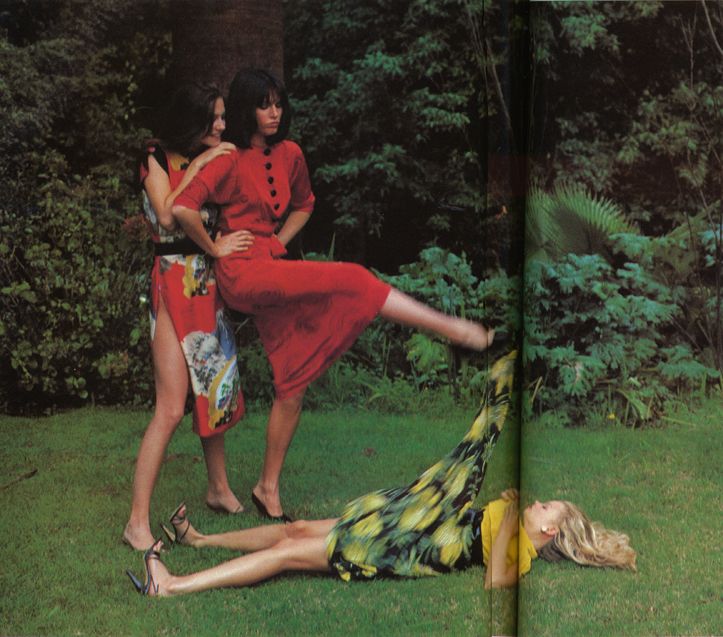 Red Chinese-silk print slashed-to-the-waist dress ($55), red-and-black-design silk-crepe dress ($110). Acid-yellow crepe Peter Pan-collar blouse ($35), The Crystal Palace, L.A.
We came to a small clearing in the trees and Luna laid me down on the grass. Joelle, her sister, was suddenly there, giggling as though this arcane prank had humor and was being played for someone's cruel amusement. Somberly, looking down at me, Luna repeated, "It was not an accident. Your father came back to kill her. He was in the car that night." Confused childhood memories flooded my dreaming mind as Luna spoke: my mother;s long-distance calls to a Greek island; angry, crying, she talked of lawyers, begged for more money, charged desertion and abandonment. Was it possible?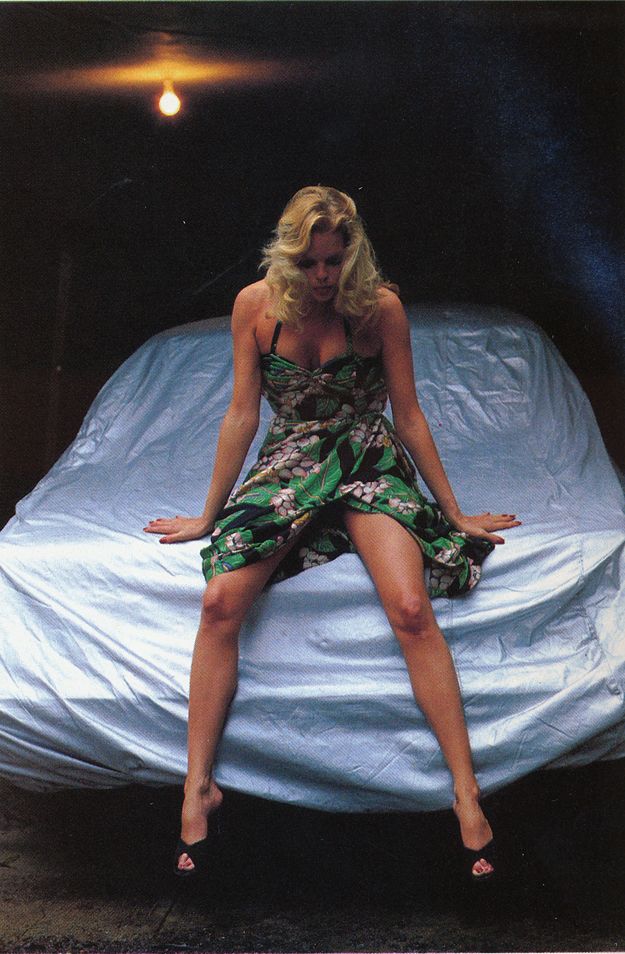 Black-green-pink Hawaiian halter sarong dress ($65) from The Ruby Slippers, N.Y.C.
all at once, I found myself alone, sitting on that car, my mother's Mercedes, covered like a corpse. I was wearing the dress my mother wore, her favorite, that night she drove to Malibu to meet someone (she wouldn't tell me who). She said before she left that everything was going to be all right again. It was the last time I saw her alive.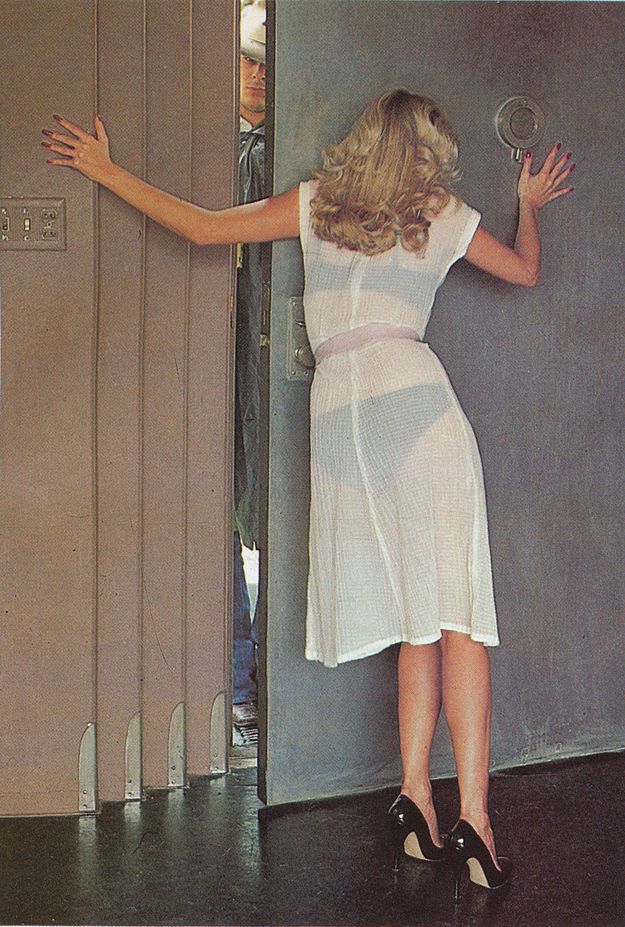 Baby pink crinkled-silk dress (matching underslip not shown) with matching pink belt ($45) from The Crystal Palace, L.A. Black "Bare-Wear" bra ($12.50) and "French Fantasy" bikini panties ($8.50 for three) from Frederick's of Hollywood, L.A. Black patent stiletto shoes ($115) from Susan Bennis and Warren Edwards, N.Y.C.
A blur, and then I was in my apartment, the one I live in now; half-awake, half-dreaming, i wasn't sure. Alone, wearing more of Mother's clothes, first a dress and then her famous lame suit, I heard rustlings at the door. It began to open as I approached. I rushed to hold it shut and caught a glimpse of Father, looking much younger than he looked last Christmas when I saw him, looking more the way he looked in Midnight Passions when I saw it on late TV one sleepless night last week. I struggled to keep him out, this strange, too young man I thought might kill me, too. Then, all at once, the pushing from the other side abruptly stopped. I slammed the door shut and looked through the peephole. The male figure was walking away, and, as he moved farther from my door, he seemed to lose substance; his form became transparent, then disappeared entirely, I noticed then that the whirring, movie-camera sound behind my head had stopped.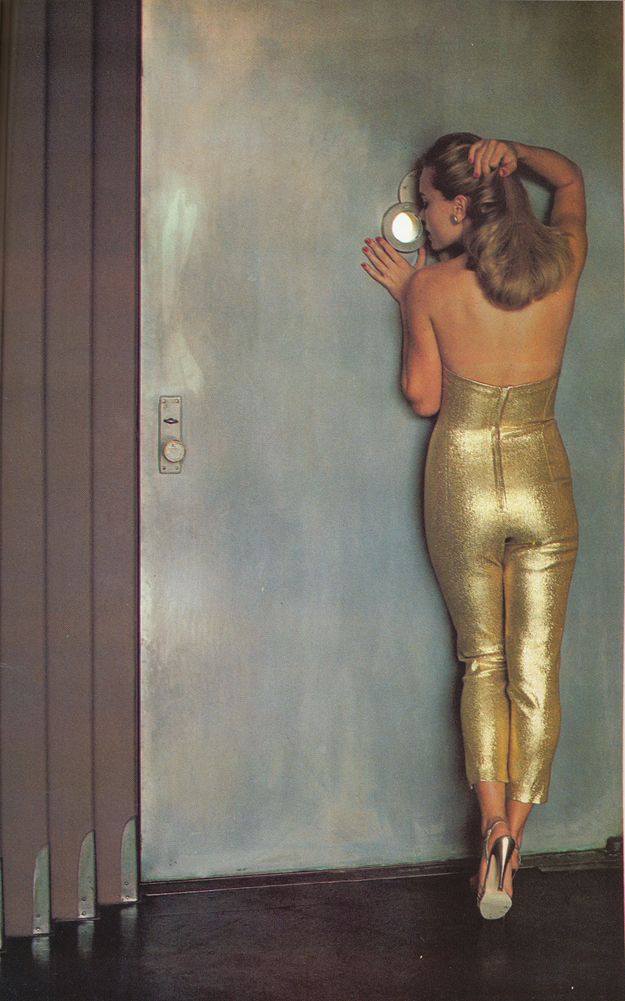 Gold lame jeweled-bodice fifties jump suit ($75), large round pearl earrings ($8) from The Crystal Palace, L.A. Gold stiletto sandals ($115) from Susan Bennis and Warren Edwards, N.Y.C.



Photos by Helmut Newton and story by Susan Duff for Viva, August 1978.

Since I'm shooting a story on my vintage collection today, I thought I would put up this rather amazing editorial of vintage 50s clothes from 1978. Even though it was photographed by the iconic Helmut Newton, I have never seen it mentioned before and came across it quite by accident. I always love seeing how vintage and antique clothes have been styled over the years, and this elegy to a lost Hollywood is pretty perfect in my opinion.