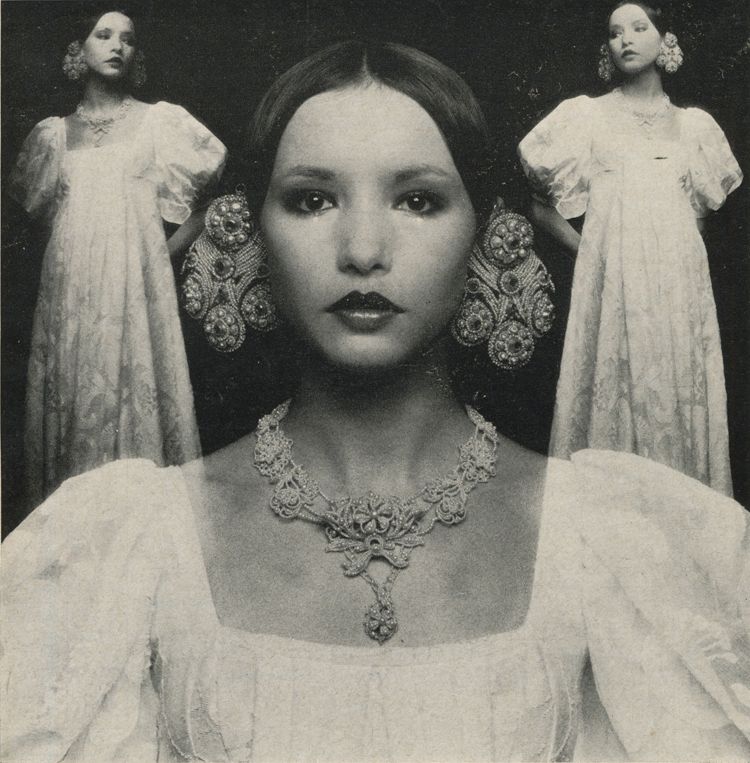 The dress, ivory cotton brocade with deep square neck, wide puffed sleeves, Thea Porter. The jewels, filigree scrollwork of tiny seed pearls, in immense ear ornaments, at Cameo Corner. Delicate necklace with flower pendant, Blooms.

"Summer," said Elizabeth Bowen, "is the height and fullness of living."
The dress, electric summer night chiffon blouse, pleated through, freed into frills at neck, with chiffon shorts, printed skirt. By Nettie Vogues. The jewels, cluster of smooth turquoise and diamonds in hair, at Asprey. Flowers of turquoise, sapphire and diamonds at shoulder, a bracelet, at Garrards.
The jewels, amethyst and turquoise paved pin and rings, Cartier.
The dress, pistachio silk chiffon with thirties figures and flower embroidered here and there, Jorn Langberg at Christian Dior London. Turquoise satin shoes with tiered wedges, Kurt Geiger. The jewels, turquoise and pearl strand, and pearl, diamond and turquoise star flower, by John Donald for Tecla.
The dress, five frills of faint chiffon, each an evening flower colour. Pale turquoise cape taking off to show a chemise bodice of lilac chiffon, Belville Sassoon; Batik print by Jane Blake. The jewels, blue opals set in a necklet of stranded gold and opal rings, Andrew Grima.
The dress, white silk chiffon printed with Persian horsemen, soft blues, yellows and reds, in a blouse with peplum and tiered gathered sleeves, skirt of three soft tiers, edged with narrow turquoise satin ribbon, Thea Porter. The jewels, ropes and tassels of pearls put together with carved and precious beads, worn five at a time, Collingwood. Amethyst ring, Andrew Grima.
Editorial by Barry Lategan for Vogue UK, June 1971.