Few bands excite me the way the Runaways do, so it was with a heavy heart that I took the news of the upcoming film on them. When I first heard of it I couldn't quite believe it, especially when I heard that Kristin Stewart and Dakota Fanning were attached- all I could think was, "Who could Dakota possibly be playing?" Then the pictures from the set started to trickle onto the gossip sites with a rather unconvincing Stewart as Joan Jett and a very unconvincing Fanning as the sex-bomb Cherie Currie, and I am even more uncertain about this upcoming film, tentatively titled

Neon Angels

, after their 1977 classic, "Neon Angels on the Road to Ruin."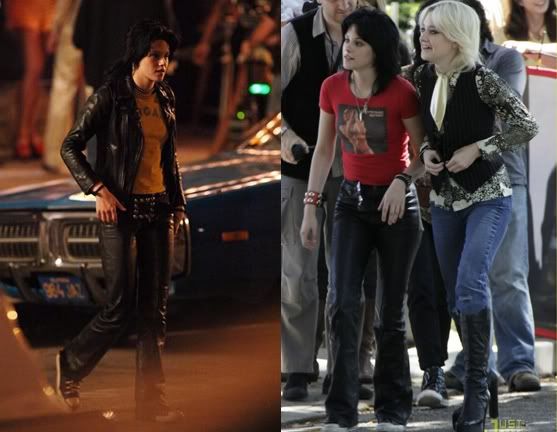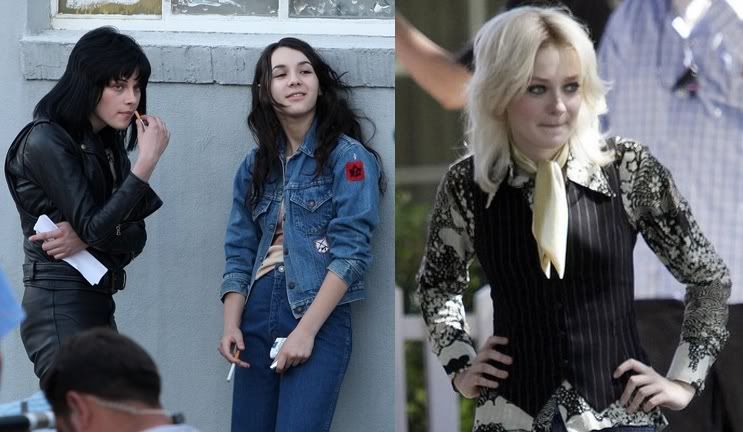 While it is hard to get a complete idea of the costumes and the film from just a few paparazzi photos, there just seems to be something lacking. The Runaways were the preeminent girl rock group of the 70s, a teenage squad of glammed out babes. Formed with the help of acid-rock god, Kim Fowley, these five beauties were all incredibly good hard rock musicians who combined their disparate influences- Cherie Currie's love for David Bowie, Joan Jett for Suzi Quatro and Keith Richards, Lita Ford's affinity for Deep Purple guitarist Ritchie Blackmore and Jeff Beck, Sadie West's passion for Queen drummer Roger Taylor, and Jackie Fox for Kiss bassist/vocalist Gene Simmons- into a cohesive sound and style all their own. This amalgamation of styles was part glam, part metal and part punk. Day to day the girls were always found in tight logo tees and high-waisted flared pants topped off with brightly coloured satin baseball jackets or a leather jacket for Jett. Performances called for skin-tight studded catsuits, French lace basques and the highest platform boots since the Glitter Band. At times androgynous in their jeans and leather, they were just as comfortable in glittery midriff exposing tops and tiny white running shorts worn with such cheeky élan that they never appeared trashy. I can only hope that the film captures the dynamic energy that surrounded them, which came from these five girl's genuine excitement to be playing the hardest rifts, thrashing out the most intricate solos and belting out the catchiest choruses with their best friends (well, at least for a little while, but that's another story). It's this feeling that has always drawn me to their music, and which drove a friend of mine to collect the most Runaways memorabilia in the world. Hopefully this rather photo and video heavy post will help you understand why this band ignites such passion in us glam rock, heavy metal lovers, and will help to explain why these girls are still such styles icons today.